EETimes "Flash Extends Life of Magnetic Tape Machines"
TORONTO — 4th October 2016, Despite the advent of cloud computing and dropping prices for both spinning disk and flash for enterprise storage, magnetic tape storage technology remains a mainstay of many industries, and financially, it still doesn't make sense to replace those systems when they can no longer replace the tape.
http://www.eetimes.com/document.asp?doc_id=1330576
It's a niche market, but one that Solid State Disks Ltd. sees as being viable for the foreseeable future. The family-run business based in Reading, United Kingdom goes back as far as 1982, when the company was founded to provide 19" disks to OEM customers, as well as spare heads and media. As business developed, it formed a relationship with the now defunct Digital Equipment Corp. to source parts and to repair drives and witnessed ever-shrinking floppy disk sizes.
The company recently launched its SCSIFlash-Tape, which provides a CompactFlash-based, solid state replacement for traditional SCSI-based, electro-mechanical tape drives on legacy computer-based systems that are either obsolete or nearing the end of their life. It can be used as a drop-in replacement for the popular DDS DAT, DLT and QIC tape drives on a variety of host systems.
SCSIFlash-Tape includes configurable firmware, which is field upgradeable via a USB port, to facilitate a match to any host computer system. It also supports TCP/IP networking via standard RJ45 Ethernet connection so that it can be connected to any existing local area network for remote configuration, control, diagnostics, backup and restore.
James Hilken, sales director for Solid State Disks, said there are lot of old systems that still use magnetic tape machines, and the cost to replace them are highly prohibitive. This includes the military space, such as nuclear submarines and 20-year-old air craft simulators, where it's hard to find parts, so drop-in solutions are welcome. The telecom market is also heavily reliant on data systems going as far back to the 70s that just don't break down the way newer systems do.
These systems don't need additional processing power to do the same job they've always done – equipment in a ham process facility won't make ham faster. And it would cost too much to transfer operations to a newer technology because in many cases both the old and new system would have to run concurrently.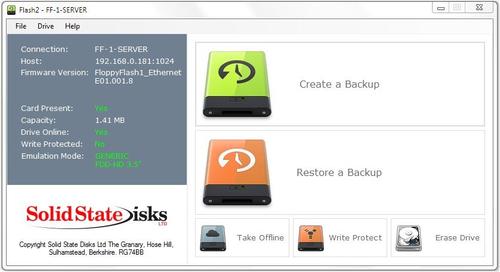 Even though Solid State Disks' technology is aimed at supporting old legacy systems, it does provide for some modern conveniences too. Thanks to the Ethernet back-up and restore capability, the SCSI-Flash replacement drives can be backed up to a modern day server. The company supports the replacement of CompactFlash with SSDs in some cases.
The magnetic tape market is a dead end for large flash players such as SanDisk and others, Hilken said, but for small, privately-run Solid State Disks, there's money to made to support systems that even predate SCSI, and the company has a roadmap in place that supports fibre channel. "There will always be legacy systems for us to follow the curve."
Magnetic tape has been a stalwart digital storage technology for more than 60 years, noted Thomas Coughlin, founder of data storage consultancy Coughlin Associates, and this is the first time he's heard of a company offering a flash memory alternative to obsolete tape technology. "As you might guess, this is a rather thin market."
He said there are a number of magnetic tape formats that have been around for many years, many for tape equipment that is no longer in production or supported by the original manufacturer. Flash memory provides much better performance but at a much higher price than today's magnetic tape on a dollar-per-GB basis.
Older tapes have much smaller storage capacity than today's tapes, Coughlin added, and enough flash memory to provide the same storage capacity as an old tape format can be economical versus trying to find obsolete tape media. He said SCSI compact flash storage system like the one Solid State Disks offers can provide 64 GB or less per flash card may be an effective way to extend the life of a tape-based storage system.
—Gary Hilson is a general contributing editor with a focus on memory and flash technologies for EE Times.