Reactive Group respects your privacy and is committed to protecting the personal information you provide to us. We would like to share with you the following principles that govern our privacy practices.
Because Reactive Group is a global company, your personal information may be shared with other Reactive Group or subsidiaries around the world (collectively "Reactive Group"). All such entities are bound by appropriate confidentiality and data transfer agreements. In addition, all such entities are governed by this Privacy Statement.
The Information We Collect:
Throughout this policy, we refer to information that personally identifies you as "Personal Information" or "Sensitive Personal Information." Reactive Group collects your Personal Information or Sensitive Personal Information so that we can respond to your requests, which may include, for example, processing your orders, adding you to email lists.
Personal Information is any information that can identify you as an individual, such as your name, postal or email address, phone number, occupation, or personal interests. Sensitive Personal Information is any information that would permit access to your financial account, including account number, credit or debit card number, in combination with any required security code, access code or password.
In many instances, you may browse the Reactive Group website anonymously. When you arrive at the Reactive Group website, we record your IP address (the Internet address of your computer) to give us an idea of which parts of the website you visit and how long you spend there.
From time to time, Reactive Group receives personal information from our business partners and vendors. Reactive Group only uses this information if it has been collected in accordance with privacy practices consistent with this Privacy Statement.
Your Choice and Control:
We will always tell you before we collect any Personal Information and inform you of the purpose of the collection. We will ask for your consent before we use or share your information for any purpose other than the reason you provided it. In order to let us know your preferences, we will require an action on your part, such as checking the appropriate option, to indicate your consent.
How We Use Cookies and Other Tracking Technologies:
Like many websites, Reactive Group uses technologies, such as cookies and web beacons, which allow us to make your visit to our website easier, more efficient and more valuable by providing you with a customized experience and recognizing you when you return.
A cookie is a small data file transferred by a website to your computer's hard drive. Reactive Group website sends cookies when you visit it. A cookie cannot read personal data off your hard disk or read cookie files created by other sites; indeed, the only personal information a cookie can contain is information you supply yourself. Accepting the cookies used on our website may give us access to information about your browsing behavior, which we may use to personalize your experience and track user traffic patterns. We do this in order to determine the usefulness of our website information to our users and to see how effective our navigational structure is in helping users reach that information.
Cookies are typically classified as either "session" cookies or "persistent" cookies.
Session cookies: do not stay on your computer after you close your browser.
Persistent cookies: remain on your computer until you delete them or they expire.
If you prefer not to receive cookies while browsing our website or via HTML-formatted emails, you can set your browser to warn you before it accepts cookies or refuse the cookie when your browser alerts you to its presence. You can also refuse all cookies by turning them off in your browser.
How We Use Your Personal Information:
Reactive Group uses your Personal Information to respond to your requests, and to do so, we may need to share your information with others. In that case, we share only the information necessary to handle your request and obligate these other parties to limit their use of your Personal Information to fulfilling your request. In addition, we may use your Personal Information to contact you as part of our customer satisfaction surveys or for market research purposes, with your permission.
We will use your Personal Information to provide products and services you have asked for, to respond to callback requests, and to provide specific marketing materials you have requested. The third parties we may need to share your information with include our business partners (for instance, as part of a joint sales promotion or to pass sales leads to one of our distribution partners); service vendors; shipping companies; and postal and government authorities (such as Customs authorities).
In the event that your employer has a written agreement with Reactive Group governing access to Reactive Group information or programs, Reactive Group may use your Personal Information to verify compliance with the agreement.
We may also use your Personal Information to create anonymous data records or aggregations of data, to perform statistical analyses and for other purposes, by omitting or removing information (such as your name) that makes the data personally identifiable to you. We will also disclose your Personal Information if required to do so by law, to enforce our Terms of Use, or in urgent circumstances, to protect personal safety, the public or our websites.
Any Sensitive Personal Information that you provide will only be used to implement the specific activity or event it was submitted for and will then be destroyed.
How We Protect Your Information:
Reactive Group safeguards the security of the data you send us with industry-standard physical, electronic, and managerial procedures. When appropriate, Reactive Group websites use SSL-encryption to enhance the security of sensitive data transmissions. Inside Reactive Group, data is stored in controlled servers with limited access. Your information may be stored and processed in Australia or any other country where Reactive Group, its subsidiaries, affiliates or agents are located.
While we strive to protect your personal information, we cannot ensure the security of the information you transmit to us over an unsecured Internet connection. We therefore urge you to take every precaution to protect your personal data when you are on the Internet.
Children and Privacy:
Our websites do not target and are not intended to attract children under the age of 13. Reactive Group does not knowingly solicit personal information from children under the age of 13 or send them requests for Personal Information.
Changes to this Privacy Statement:
This document was last updated on March 20th, 2008. Reactive Group may amend this privacy statement from time to time, and at any time. Your continued use of the Reactive Group website after any change will signify and confirm your assent to those changes.
Questions or Suggestions:
If you have questions or concerns about our collection, use, or disclosure of your Personal Information, please email us using the email form provided.
Reactive Group Legal Department:
Head Office UK
Reactive Group The Granary Hose Hill Sulhamstead Berks RG7 4BB United Kingdom
Telephone: +44 (0) 1189 323499 Fax: +44 (0) 1189 323510
Solid State Disks Ltd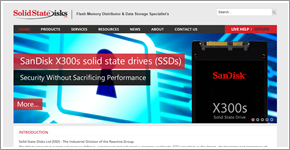 Solid State Disks Ltd (SSD) - The Industrial Division of the Reactive Group deliver innovative system solutions to defence, commercial and industrial customers worldwide. SSD specialises in the design, development and integration of advanced storage systems.
Visit site: www.solidstatedisks.co.uk
CF2SCSI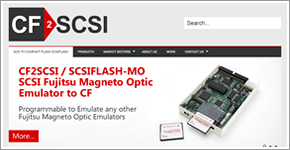 Solid State Disks Ltd (SSDL) - The advanced storage systems design, development and integration specialist launched the CF2SCSI drive which solves the growing and increasingly expensive problem of repairing or replacing ageing and failing SCSI-based hard disk...
Visit site: www.cf2scsi.com
ARRAID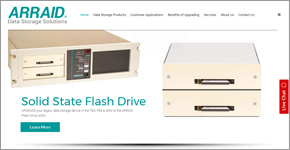 Arraid LLC (Arizona, USA) - Arraid manufacturers solid state Flashtape and Flashdisk solutions for computer systems by Bull, DEC, Encore, Honeywell, HP, Evans and Sutherland, Pertec, SMD, HISI, HPIB, MAC, OMTI, XMD and many more. Arraid utilizes proprietary FPGA based technology...
Visit site: www.arraid.com
LATEST NEWS
Solid State Disks Ltd achieves 25th year of ISO with new ISO 9001:2015 Quality Management Systems Standards Certification
Solid State Disks Ltd (SSDL), part of the Reactive Group of companies, which includes Arraid LLC, Phoenix USA, is proud to announce the achievement of the new standards ISO 9001:2015 Quality Management Systems Standard Certification.
Reactive Group were first issued ISO9001 in 1993. We are proud that this is our 25th year of ISO certification.
Read more...
Reactive Groups Solid State Disks UK Ltd (SSDL) are at the IIOM Annual Exhibition and Conference, Bristol - 21 & 22nd June 2017
Reactive Groups Solid State Disks UK Ltd (SSDL) are at the IIOM Annual Exhibition and Conference in Bristol on the 21 & 22nd June 2017
Read more...
Reactive Group acquires Arraid, a US-based legacy data storage specialist, and revamps products using solid state technology
Reading, UK– 15th June 2017. Reactive Group, a leading independent company specialising in the design, manufacture, sales and support of data storage and networking products, has acquired Arraid Inc., based in Phoenix, Arizona in the USA. Arraid is a manufacturer of replacement data storage solutions for ageing disk, tape and floppy drives on legacy computer systems and its acquisition is a natural extension of Reactive Group's specialist engineering heritage in prolonging the life of legacy computer systems.
Read more...
SSDL Exhibiting at DPRTE 2017
- News Release March 2017 -
We will be exhibiting at DPRTE on the 28th March at Motor Point Arena, Cardiff.
This annual event brings together the defence procurement and supply chain community under one roof.

Please do come and visit us on Stand 112 to discuss your industrial memory and storage requirements.

DPRTE 2017 Exhibition website link here
SCSI Flash Tape launch coverage in EEtimes
EETimes "Flash Extends Life of Magnetic Tape Machines"
TORONTO — 4th October 2016, Despite the advent of cloud computing and dropping prices for both spinning disk and flash for enterprise storage, magnetic tape storage technology remains a mainstay of many industries, and financially, it still doesn't make sense to replace those systems when they can no longer replace the tape.
http://www.eetimes.com/document.asp?doc_id=1330576
Read more...